A new way to get cyber ready
When it comes to cyber security incidents, there are a number of organisations out there that when faced with such a threat – panic and then make poor decisions – which impacts their brand and customer trust. It's the high pressure environment that can counteract planned responses to an attack disrupting cybersecurity resources. It's important to understand how well prepared you are for a cyber-attack but just as important is the need to be confident with how your teams would react to an incident in a stressful, dynamic situation.
That's why PwC has launched Game of Threats™ in Australia with senior executives from multiple industries who are getting cyber ready through a digital simulation experience.
Game of ThreatsTM is PwC's proprietary, interactive game that simulates a cyber breach from the perspectives of a threat actor and a company.
Leveraging the interactive game platform, our facilitators work with organisations to plan and deliver multiple cyber attack simulations with the goal of increasing cybersecurity awareness, fostering collaboration between business units and technology teams, and improving organisation's strategic response to cyber threats.
During this workshop, participants will be challenged to make quick, high-impact decisions in an effort to simulate the pressure and intensity of decision-making in the midst of a cyber breach and to assess readiness to understand, respond to and defend against cyber threats.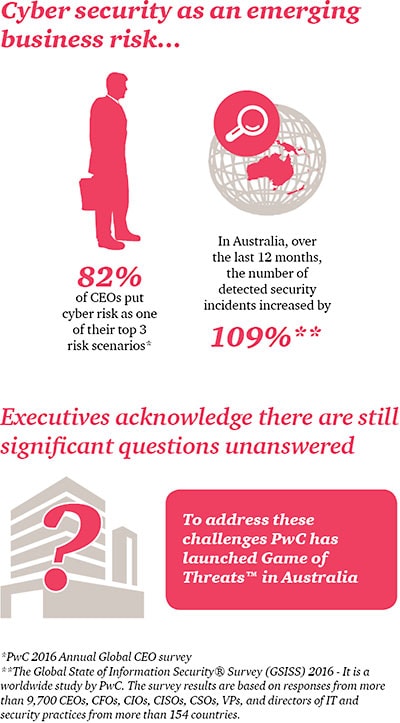 Game of Threats™ is a strategic gamification product for company executives such as the Chief Risk Officer, Chief Executive Officer, Chief Technology Officer and executive board members.
What should participants expect out of Game of Threats™?
Have fun playing in a competitive team environment
Experience cyber attacks from both the company and attacker perspectives
Become more familiar with real-world cyber security terminology and be able to assess the business implications
Safely experiment with different tactics and strategies in response to cyber attacks
Learn about non-technical countermeasures and responses to cyber attacks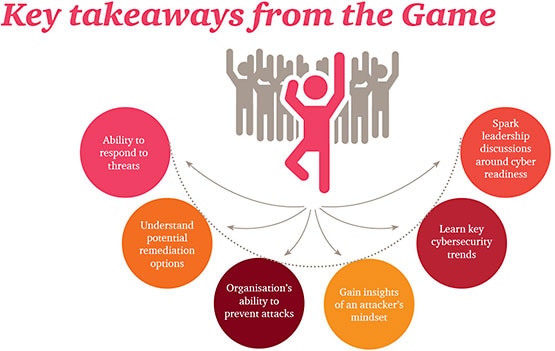 To see this article from PwC in its original location and more, please click here.